Lodging in the Retreat Center
The Retreat Lodge is the keystone of our Retreat Center, complete with private bedrooms, a great room (complete with gas fireplace), a large breakfast nook, a multipurpose meeting space, comfortable bathrooms, and quick access to the Fellowship Center. Maximum capacity of the Retreat Lodge is 27. Camp of the Cross also has 12 heated and winterized cabins (10 beds each). Six are located in the two large buildings beside the Retreat Lodge.
Lodging in Cabins
Six more all-season cabins are situated up the hill from our new Fellowship Center with Lake Sakakawea out the back door. Although these cabins have some of the best views on Camp and can be heated or air conditioned, with a finished concrete floor, we consider them our rustic cabins. Each cabin has access to nearby modern outhouses with heat and electricity.
Our Dining Hall seats 120 guests. Our cooks prepare delicious and healthy meals. A fireplace provides a warm glow to our heated dining hall.
The camp is served centrally by this comfort station, which includes showers. The Retreat Lodge has it's own bathrooms and showers. The 6 ridge cabins have 4 modern outhouses with heat and electricity.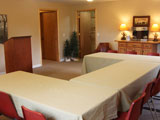 We have many meeting spaces, such as the Lower Sakakawea room (pictured). There are additional meeting spaces in the double cabins, Dining Hall, and soon the Fellowship Center.
Fellowship Center
Join Us in Building A Place Where Future Generations Will Come to Experience Christ and Grow in Faith
Enhancing the growing ministry of Camp of the Cross, the Fellowship Center is designed as a space where people will grow in faith for generations to come. People like you, who have been changed by their time at Camp of the Cross, have generously donated over $2,500,000 toward this building—and we are getting closer to our goal every day!
Campfires
Campfires are a big part of camp. Talk to any camper and they'll tell you their favorite campfire song. We have campfire every night during summer camp and about 10 different campfire locations (from Far Point to What's The Point).
Retreat groups also love campfires. We allow and encourage campfires at any of our 6 main, designated campfire sites that go from rustic sites to our sheltered and screened-in Lakeside campfire site. Lakeside's cozy feel is particularly good for large or small groups looking to foster a sense of community.
If you'd like to have a campfire, contact a CCM staff member to obtain a firewood bundle and determine an excellent campfire site for your group. Staff will determine which campfire sites are possible based on your group size and the weather conditions.
Craft Shack (and Small Retreat Kitchen)
Paint splattered and full of popsicle sticks, paper, yarn, markers, and more, the Craft Shack has obviously hosted many very happy campers over the years. In the summer months, very few escape the Craft Shack without a little more glitter than they came in with.
During retreat season we make the kitchen area ready for groups of 10 or fewer to prepare their own meals if they so choose. The Craft Shack kitchen area includes an electric stove and oven, microwave, refrigerator, sink, and, of course, a coffee maker.
Wireless Internet
WiFi is available to retreat groups in the Retreat Center. Passwords are listed in various areas and may vary between buildings.
Site Map